Staff
Christophe Laux

Professor

(See website)

Christophe O. Laux received his undergraduate and M.S. degrees in engineering from Ecole Centrale Paris in 1988 and a Ph.D. degree in mechanical engineering from Stanford University in 1993. He worked at Stanford University as a Research Associate until 1999 and as a Senior Research Scientist until 2002. He then joined the faculty of Ecole Centrale Paris and the Laboratoire EM2C of Centre National de la Recherche Scientifique (CNRS) and Ecole Centrale Paris. His research interests include plasma-assisted combustion, plasma-control of aerodynamic flows, reentry radiation modeling, spectroscopy, and optical diagnostics of plasmas.

Pr. Laux is a Fellow of the American Institute of Aeronautics and Astronautics.

Gabi-Daniel Stancu

Professor

(See website)

Gabi-Daniel Stancu received his PhD (Dr. rer. nat.) in Physics from University Ernst-Moritz-Arndt, Germany in 2004 and the Habilitation to conduct research (HDR) from University Paris-Sud, France in 2014. He joined the plasma group as a postdoctoral researcher in 2007 and he is currently professor at CentraleSupélec, Energy Department and deputy director of EM2C laboratory. His present research is devoted to the development of advanced spectroscopic laser diagnostics (UV to Mid-IR spectral domain using femtosecond - CW lasers), the fundamentals of reactive plasmas (e.g. NRP and microwave capillary discharges) and their applications (e.g. plasma assisted combustion, biomedical).

Sean McGuire

Assistant Professor

(See website)

Sean McGuire received his PhD in Mechanical & Aerospace engineering in 2015. His thesis focused on the development of non-intrusive laser diagnostics. Sean spent two years as a postdoctoral researcher with the plasma team at EM2C, working on applying optical diagnostics to the study of weakly ionized plasmas with applications to hypersonic atmospheric entry. He transitioned to permanent staff in 2017.

Erwan Pannier

Research Engineer

In my Ph.D I developed infrared in-situ spectroscopy diagnostics to characterize the kinetics of Nanosecond Repetitive Pulse Discharges in CO2. Today I apply the results of this research to produce Hydrogen from Methane / CO2 mixtures. We are launching a spin-off project called Spark Cleantech with the support of the Lab. Outside the Lab I'm involved in supporting the Energy Transition in existing companies. The rest of the time, I either dance or prepare for bike & run races!

Augustin Tibère-Inglesse

Post-Doc

Augustin Tibere-Inglesse grew up under the sun of Montpellier in the south of France. He received his Ph.D. in 2019. His thesis, funded by ArianeGroup, focused on an experimental study to understand plasma dynamics for atmospheric entry applications. He developed optical diagnostics, such as optical emission and Raman spectroscopy, to measure the radiation and the excited states densities of air and nitrogen plasmas. These measurements were compared with CFD simulations and are intended to be used as a database to improve numerical models used in the atmospheric entry community. Outside the lab, he is a former French champion in artistic gymnastics, and now he tries to get the same accomplishments in climbing.
Ph.D. Candidates
Victorien Blanchard

Victorien Blanchard was born in 1994. He started in November 2018 his Ph.D. research work on the experimental study of plasma-assisted combustion. His interests focus on a better understanding of lean flame dynamics stabilized by nanosecond discharges. Optical diagnostics are applied to an academic low-power burner as well as a high-power burner representative of a gas turbine engine. This work is supervised by Christophe Laux and Sébastien Ducruix and is supported by the France's ANR (PASTEC ANR16-CE22-0005).

Fabien Coquery

Fabien Coquery is a PhD student working on a surface-wave launch microwave plasma generated in small capillary tubes (ID < 1 mm) at low power (tens of Watts) both at atmospheric and low pressure. The two main goals of his thesis is to 1°) get the complete power balance of the discharge 2°) study the plasma reactivity with optical diagnostics (Absorption and emission spectroscopy). His work is co-supervised by LPGP lab, and founded by LabeX LaSIPS project ThermoPlas. Outside of the lab, he mainly does improv theater.

Ulysse Dubuet

Following Pierre Mariotto's work, I am working on a collisional-radiative model of a recombining Air/Argon nonequilibrium plasma for space reentry applications. I aim to validate a model against experimental data obtained with the plasma torch of the lab. This model will then be used to simulate reentry chemistries and to predict the radiative heat flux received by a spacecraft coming back from the Moon or from Mars.

Arnaud Gallant

I am a 3rd year PhD Student at EM2C as an experimental physicist. My work is about the dissociation and recombination of Nitrogen molecules using electrical discharges, more specifically nanosecond repetitive pulses (NRP), within a pressure range of 1 to 10 bar. Atomic Nitrogen, obtained by the dissociation of Nitrogen molecules (which are naturally present in the air we breathe), can be used for nitridation processes, for biomedical applications or air pollution control. My work is focused on the production of such atomic Nitrogen. Among other diagnostics that we have used, my colleague Ciprian Dumitrache (now working at the INFLPR near Bucarest, Romania) and I have worked on absolutely-calibrated-femtoseconded Two-Photon Absorption Laser Induced Florescence (TALIF) in order to measure the density of ground state atomic Nitrogen in situ, a novelty in this research domain. This work has been carried out under the direction of my two advisors, Gabi-Daniel Stancu and Christophe Laux, professors at the EM2C laboratory. This work is sponsored by the ANR grant ASPEN (ANR-16-CE30-0004).

Corentin Grimaldi

Corentin Grimaldi started his Ph.D. in November 2018 on an experimental study to understand the recombination dynamics of CO/CO2 plasma. Optical diagnostics such as emission and absorption spectroscopy in UV, visible and IR regions are applied at the exit of a 50 kW ICP torch and at the exit of a water-cooled test section producing respectively CO/CO2 plasma in equilibrium and recombining plasma in non-equilibrium. These conditions are representatives of a Martian atmospheric entry and the results are useful to optimize the design of the thermal protective system of the capsule. These measurements are meant to provide a test case for comparison with theoretical predictions made by kinetic models and CFD predictions. This work is supervised by Christophe Laux and Sean McGuire and supported by the grant CO2REC (ANR-18-CE05-0003) from the Agence Nationale de la Recherche (ANR).

Jean Maillard

I'm a Ph.D. student working on CO2 dissociation by nanosecond discharges. The goal of my thesis is to better the understanding of the kinetic mechanisms in the NRP discharges, which can help to achieve higher dissociation efficiencies. To do so, I'm developing CO TALIF diagnostic to monitor the CO production in the after-pulse. I'm also working on the modelization aspect with a kinetic code called ZDPlaskin. Besides, I devote the rest of my time to two other passions: rowing and saxophone!

Pierre Mariotto

I am working on the collisional-radiative model of a recombining N2/Ar nonequilibrium plasma for space reentry applications. My goal is to validate the model against experimental data measured in the plasma torch of the lab. It will help aerospace industries to design the heat shield of their spacecraft reliably.

Nicolas Minesi

Born in 1993, Nicolas Minesi is working on plasma-assisted combustion and fundamental aspects of nanosecond discharges. A part of his Ph.D. is spent in ONERA to implement Nanosecond Repetitively Pulsed (NRP) discharges in a 100-kW burner while investigating the impact of NRP discharges in a smaller experiment in EM2C. He worked experimentally and numerically on the role of excited states in the ionization of single nanosecond discharges. In his spare time, he plays and referees rugby, pets his cat, and dances.

ResearchGate / HAL / LinkedIn / GoogleScholar
Interns & Research Undergrads
Jean-Baptiste Perrin-Terrin

Pierre-Antoine Goutier

Pierre-Antoine a rejoint l'équipe Plasma pour un stage de césure sur le projet Spark de production de H2 par pyrolyse de méthane. Il travaille sur les modèles cinétiques, en particulier de nucléation et de croissance du carbone solide créé, et sur l'influence du plasma sur le procédé.
Clémentine Tocco

Clémentine vient de rejoindre l'équipe Plasma, également pour un stage de césure sur le projet Spark. Elle travaille sur la caractérisation du procédé, par chromatographie phase-gazeuse, et spectroscopie d'émission, pour mesurer les espèces produites et la température et densité électronique en fonction des conditions du plasma.
Former Members
Staff
Post-Doc
Ciprian Dumitrache (2018 - 2020), ResearchGate
Sergey Stepanyan (2015 - 2019), ResearchGate
Sean McGuire (2015 - 2016)
Da Xu (2014 - 2015)
Adrien Lemal (2014 - 2015)
Sara Lovascio (2014), ResearchGate
Megan McDonald (2012 - 2014)
Evgeny Mintsunov (2014)
Carolyn Jacobs (2011 - 2013), ResearchGate
Simon Dap (2012)
David Pai (2008 - 2010)
Michael Winter (2009)
Gabi-Daniel Sancu (2008 - 2009)
Thierry Magin (2008 - 2009)
Mario Jando (2008 - 2009)
Lise Caillaux (2004 - 2006)
Sergey V. Pancheshnyi (2005), ResearchGate
Former Ph.D. Candidates
Nicolas Minesi (2021), ResearchGate, HAL, LinkedIn, Google Scholar
Fabien Coquery (2021), LinkedIn
Augustin Tibère-Inglesse (2019), ResearchGate, HAL
Erwan Pannier (2019)
Gilles Baillet (2019), ResearchGate, LinkedIn
Christopher James (2016), Website, Google Scholar
Arthur Salmon (2018)
Sylvain Heitz (2017)
Maria Castela (2016)
Marien Simeni Simeni (2015), ResearchGate
Umar Sheikh (2014)
Florent Sainct (2014), ResearchGate
François Péchereau (2013)
Da Xu (2013)
Aurélien Guy (2013), ResearchGate
Adrien Lemal (2013), ResearchGate
Diane Rusterholtz (2012)
Farah Kaddouri (2011)
Guillaume Pilla (2008)
David Pai (2008), ResearchGate
Research Undergrads & Interns
Raphaël Dijoud (2020 - 2021)
Julie Ben Zenou (2017 - 2019)
Valentin Baillard (2014 - 2018), ResearchGate, LinkedIn
Anne Le Maître (2015), LinkedIn
See our full list of alumni on ResearchGate.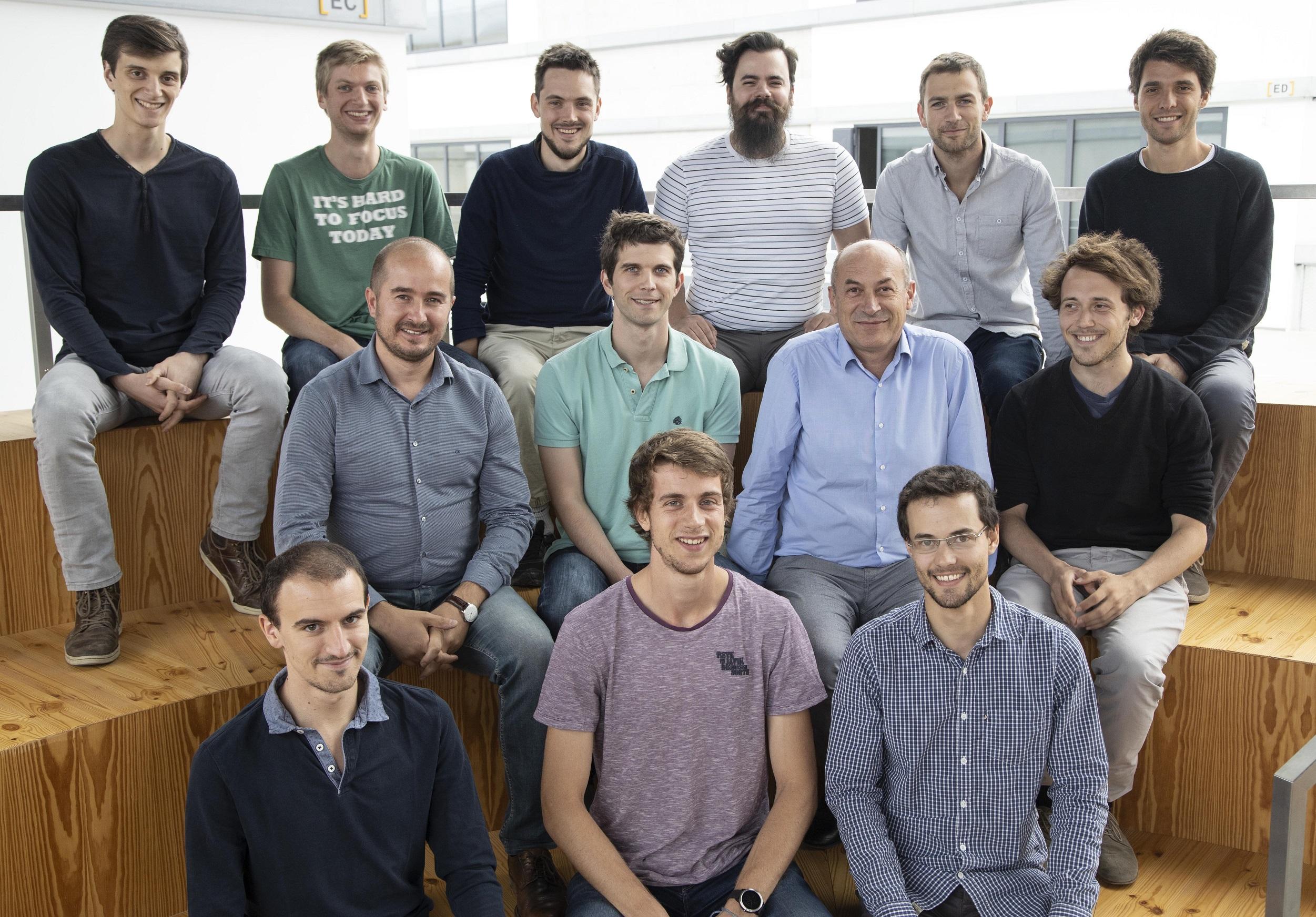 Crédits photos : Cécile Oriot - CentraleSupélec